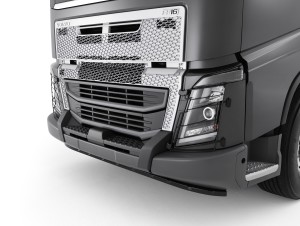 Volvo Trucks is launching  a heavy duty front bumper for the FH and FH16 models. With this extra strong steel front bumper these Volvo models are beter equiped for heavy transport, construction jobs and timber transport
The new bumper is based on the Volvo FMX bumper and it has corners and a front plate made out of 3 mm thick steel. The bumper alows more ground clearance and a beter inclination corner of 20 degrees. The towing hook is good for 36 tons. The new bumper is 132mm longer than the standard types and that has influence on the total vehicle length.
The official launch is at the Intermat exhibition in Paris that is organised between 20- and 25 of april.