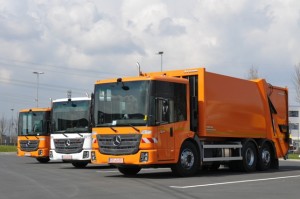 Mercedes-Benz introduces a new natural gas engine at the upcoming International Commercial Vehicles show (IAA) in Hanover (25 Sept. till 2 Oct.). The new M936G natural gas engine destined for  the Econic (picture) is based on the OM 936 turbodiesel engine from the new 7.7 l generation, which is being mounted in Atego and Antos trucks.
As a mono-fuel engine, it runs on compressed natural gas (CNG) and has an output of 221 kW (301 hp) while delivering maximum torque of 1200 Nm. Figures like these, in combination with its power delivery, place the single-stage turbocharged engine nearly on a par with its diesel-powered counterpart. At the same time, it sets, according to Daimler, new standards in terms of environmental compatibility, with CO2 emissions up to 22 percent below those of a diesel engine. Using biogas further improves the carbon footprint.
Virtually soot-free combustion obviates the need for a particulate filter of the kind now customary in diesel engines with the introduction of the Euro VI standard. Exhaust gas aftertreatment is by means of a three-way catalytic converter.
The natural gas engine has an even lower noise level than the already quiet OM 936 diesel engine.
The additional weight compared to diesel drive has been halved to only around 500 kg. This is by virtue of gas cylinders with thin steel walls and a carbon-fibre mantle.