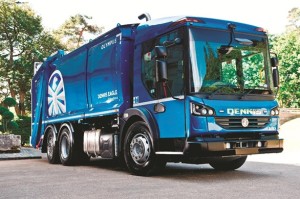 British manufacturer of collection vehicles Dennis Eagle has chosen VSE steering systems for several reasons. For a delivery in Australia VSE offered the right solution. VSE also provided the British manufacturer with solutions for the latest generation of multi-axle collection vehicles. The trucks produced by Dennis Eagle operate continuously in city centres and residential areas. So it is only logical that they must all be extremely agile, even those with multi-axle configurations.
For the larger trucks in its line, Dennis Eagle builds chassis with multiple axles. Obviously this includes a three-axle version, but Dennis Eagle also builds four-axle versions in various configurations, including some with two front axles. In the past, Dennis Eagle has always used a rod-based steering system. Those familiar with such systems know they require a bit more space and also contribute considerably to the total vehicle weight. Dennis Eagle recently delivered its first collection vehicle equipped ETS 2 steering on the second front axle to Australia. This is unique solution, and one with which Dennis Eagle and the customer achieve considerable weight savings while still obtaining optimum manoeuvrability. The truck in question has a bigger engine and gearbox, which meant the second front axle had to be moved somewhat further to the rear. Yet the axle could still be steered, because VSE imposes no requirements as to where the axle must be positioned in the chassis for optimum steering.
The engineers at Dennis Eagle found a new steering solution for their multi-axle rubbish truck chassis at VSE. The ETS1 steering system requires hardly any space and is also significantly lighter than a rod-based steering system. This British manufacturer's technical specialists really hit two birds with one stone. The multi-axle refuse trucks are lighter, yet despite their multiple axles and somewhat greater overall length remain just as versatile in terms of manoeuvrability.
"It's not the first time Dennis Eagle has ordered steering systems from us," says account manager Etienne Jansen of VSE. "We were already delivering systems for front and rear tag axles for this truck brand. But this new solution is truly a breakthrough. VSE will now deliver significantly more systems to Dennis Eagle." He estimates that about half of the total production at Dennis Eagle will be equipped with a VSE steering system.