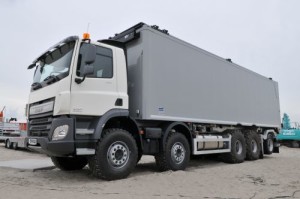 Holland is known for its heavy five axled trucks with GVW's up to 50 tons. Now Veldhuizen Wagenbouw comes with a sollution for countries like Germany with what seems to be a five axled truck, but in fact it is a tractor-trailer combination.
The DAF CF 8×4 is connected to a one-axled trailer that is fixed to the truck frame. So, it is a trailer, and yes, you can disconect it but it looks like a rigid and it feels like a rigid. The trick is that a standard 8×4 rigid in Germany is never alowed to have a higher GVW than 32 tons. Now this tractor-trailer combination is good for a GVW of 40 tons, and that is a big difference! In Holland this 'combination' is good for 49 tons GVW and it has a volume of 60 cubic metres. The body is a moving floor.
The trailer axle is a BPW 9 tons axle. Veldhuizen is building these special configurations for road- and Agricultural purposes. That is why the tyres of this CF are single mounted and fit for offroad use. Still, this is a road vehicle with a normal truck licence.