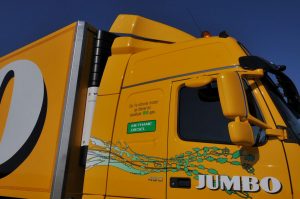 Swedish newspaper Dagens Nyheter quotes Volvo manager Lars Mortensson, who says that Volvo will introduce a new methane diesel truck somewhere next year.  Volvo used this technology back in 2011 en it conducted several tests in a number of countries.
In 2014 Vovlo signed a deal with Shell about Blue Corridors. Shell would build a number of LNG stations along Europe's main motorways while Volvo would supply trucks. Construction of these fuel stations are well on their way in The Netherlands and soon in Belgium and in Germany.  In Sweden, there are five stations now and according to Mortensson, Volvo would like to see some thirty LNG fuel stations in Sweden.
The new truckgeneration Mortensson hints to, will use a mixture of 90% diesel and 10% LNG. A similar concept has been in use in Britain for several years now, but not in Euro 6 as far as we know. Volvo is optmistic about this concept, after having spoken to a number of customers about this development.
Meanwhile, Renault will offer a CNG-version of it's D-Wide truck next year as well.
Volvo manager Mortensson expects that Volvo will introduce hybrid and electric vehicles for city distribution as well within five years.