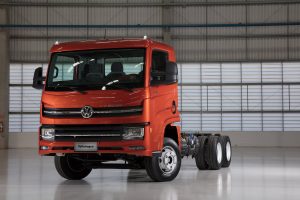 Volkswagen has presented the new Delivery range in Brazil. This is the product for the 3,5 up to 13 tonnes for Latin America and other demanding markets. In the Volkswagen Truck Group we did espect to see more of a global platform but this Delivery small truck has nothing to do with the European products of VW or MAN.
The Delivery Express and the 4.150, the only ones in the line featuring EGR technology. Equipped with the 2.8 liter Cummins ISF engine, the vehicles reach 150 hp and maximum torque of 360 Nm in a broad range of engine rpms to ensure quick recoveries, agility and lower fuel consumption in urban deliveries. The Delivery 6.160 is also equipped with a 2.8l Cummins ISF engine, but this time with SCR after-treatment solution, which is already a traditional feature in its segment. Its power reaches 160 hp and maximum torque of 430 Nm. The 9, 11 and 13 ton vehicles are equipped with the 3.8 liter Cummins ISF and SCR technology, with ideal robustness for each application. All three register maximum torque of 600 Nm, with power ranging from 165 to 175 hp.
With the current launch, which was the result of over R$ 1 billion invesment, Volkswagen arrives at the challenging 3.5 ton market with a model called Express. The product combines the features of a heavy truck, such as internal space and robustness, in a small vehicle with a modern design. The 4 ton Delivery is another excellent option among the entry models of the new family, as it can be financed by Finame (Brazilian Special Industrial Financing Agency).
The new 6 ton Delivery arrives, along with the 9 and 11 ton models, with enough features to take on the difficult mission of excelling the current best-selling models – which are a strong success in the national market. And the new 13.180, in 6X2 version featuring a third axle, is the highest load capacity in the new portfolio.
The new VW truck is produced in Resende where also the Constellation truck is being produced. The new range will be presented during the Fenatran exhibition in oktober 2017. Click here for the video!
Novo Delivery from Comunicação da MAN Latin America on Vimeo.