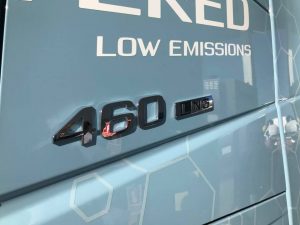 The Volvo Methane of LNG trucks promise a range up to 1000 km on LNG. Volvo has tested the technology in the heat and in the cold and says they have the best solution on the market. The Volvo LNG trucks only come with the I-Shift transmission and with almost all the cabs from the FM and FH range. Only the short FM cab is not planned.
The technical principle of the Volvo system is like this:
In a diesel engine a mixture of fuel and air is compressed in the cylinder and is ignited by the high pressure. When powering a diesel engine with gas, that's not the case. The mixture of air and gas doesn't ignite by the pressure only. It needs a spark. In the new Volvo gas-powered engine, the system uses 90–95%* of gas and add only 5–10%* of diesel. The small percentage of diesel then ignites when the pressure increases in the cylinder and works as a spark plug that ignites the gas. All this happen within milliseconds – practically simultaneously. Volvo says that is the the key to the efficiency benefits of diesel technology while still getting the lower CO2 emissions from gas.