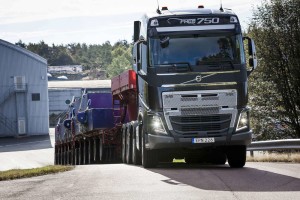 Volvo is introducing a new version of the I-Shift transmission with one- or two crawlers. With these new option the Volvo I-Shift is capable of pulling away with gross vehicle weights up to 325 ton under heavy conditions. Also this new technology alows to work with different rear axle ratio's so extreme pulling power at low speed can be combine with fuel efficient highway use.
The new crawlers, up to two also give two reverse crawler gears. The crawlers are integrated in the I-Shift gearbox unit which is 12 cm longer than the normal version. The new gearbox is available for the FH, FH16 and FMX models with 13- and 16 liter engines.
The lowest ratio for a direct drive I-Shift gearbox with the new Crawlers is now 37:1 in the lowest gear.