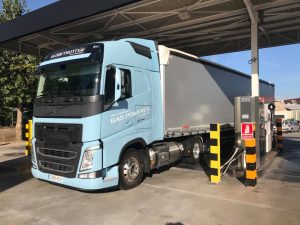 On the day Iveco was presenting their new 460 Hp LNG trucks we found these photo's of the Volvo LNG trucks. Just like the Iveco's they are up to 460 Hp and have a fully automated transmission. Iveco uses the new ZF Traxon gearbox where Volvo uses their own I-Shift.
A difference is that Volvo still does use a very litle dieselfuel to ignite the LNG gas when the engines are cold. After that the Volvo engine is a full gas engine.
Other news is the small window in the FM that we see here for more visibilty on the blindspot. This is off course the English version.