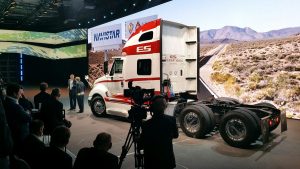 The intended cooperation between Volkswagen Truck & Bus and American truck manufacturer Navistar has been approved by authorities. Volkswagen invests 256 million dollar in the US firm, gaining the Germans a 16,6% stake in Navistar.  With this transaction the young truck division of Volkswagen gains a serious foothold on the American truckmarket.
As part of the alliance agreement and in line with Volkswagen Truck & Bus's ownership stake, Mr. Renschler and Matthias Gründler, Chief Financial Officer of Volkswagen Truck & Bus, are joining Navistar's board of directors. As previously announced, Navistar expects the alliance to be accretive beginning in the first year, and for cumulative synergies for Navistar to ramp up to at least $500 million over the first five years. By year five, it expects the alliance will generate annual synergies of at least $200 million for Navistar. This annual run rate is expected to grow materially thereafter as the companies continue to introduce technologies from the collaboration.
MAN, the German truck manufacturer operating under the Volkswagen banner, already has developed a 12,4 litre engine to be used in Class 8 trucks of International. The new engine will be available soon for International customers. Picture shows International ProStar in Volkswagen plant in Hanover. Andreas Renschler left on stage.