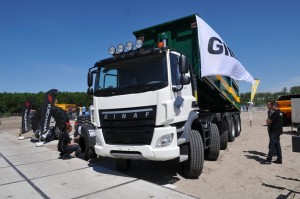 At a Dutch event on construction equipment, Dutch special vehicle manufacturer Ginaf show this impressive new 10×6 five axle rigid truck. It's called the X6 5350. Actually it is not that rigid, as four of the five axles can be steered, The first three axles via the normal steering system and the final axle is steered by an electro hydraulic steering system from VSE.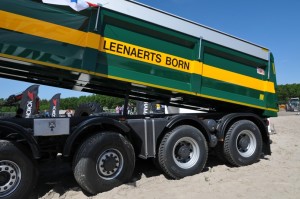 This Ginaf features the restyled cab which resembles the new Euro VI generation of DAF Trucks. The chassis is typically Ginaf. Two front axles and a three axle tandem with compensating hydraulic suspension. This means that at all times, the truck has the same, predictable driving characteristics and it makes no difference where the centre of gravity is located with the truck loaded.
The GVW of this construction truck is 52,5 tonnes, which perfectly suits the Dutch law, which allows fifty tonnes GVW.