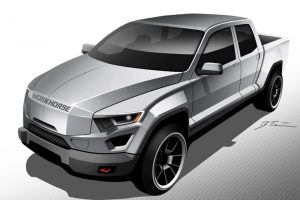 President-elect Trump digging coal or not, in the US there are several firms developing eletrically driven vehicles. We already mentioned Tesla developing a fully electric pick-up, but meanwhile, there's also the Workhorse Group having a pick-up under development that will hardly need gas.
Hardly, because the Wotrkhorse W15 has a small range extender supplying energy to this pick-up when it runs out of electricity. We can't help noticing that there's a resemblance to the Ford F 150, but underneath, things are really, really different. The truck's Panasonic 18650 Li-ion batteries will have an estimated 80-mile battery range and regenerative braking capabilities.
The powertrain of this Workhorse cooks up 268 horsepower (200 kilowatts) and a huge 1,620 pound-feet (2,196 Newton meters) of torque. The range extender should be the same 650cc, two-cylinder BMW W20 motorcycle engine used by BMW in the i3. "We believe this will be the first plug-in hybrid, range-extended electric pickup truck built from the ground up by an OEM in America. It's not a conversion vehicle," commented Workhorse CEO Steve Burns.