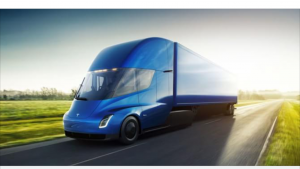 Last night, Tesla unveiled it's long awaited truck in the US. It appears that spy-pics Iepieleaks showed, were the right model. The new truck has a range of up to 500 miles, Tesla says, or 800 kilometres in European dimension.
The truck features four electric motors driving the two rear axles. We hear that these motors are similar to the ones of the compact Tesla 3 passenger car.  Fully loaded, the Tesla truck reaches a speed of 60 mph in 20 seconds, Tesla promises us. Elon Musk told the crowd that if you order now, you will get your truck in two years.
Charging your truck can be done in half an hour, Tesla says. "During your coffee break or during unloading your truck. After 30 minutes, you already have a 400 mile (640km) range, Tesla assures us.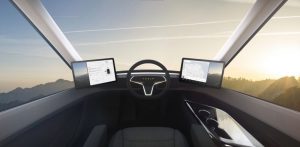 We also have a picture of the cabin. The big difference with existing truck cabins is that the drivers seat is in the centre of the cab. There are touch screens on either side of the dashboard and no, the Tesla Truck has no outside rear view mirrors but a camerasystem, also to limit any blind spot. The cab features 'bullet proof glass' Tesla says, and it will tell it's driver in advance when it needs maintenance.
The truck is not fully autonomous, but it features the same assistance systems we see in European trucks these days. The truck has a system whch can steer each wheel separately, in order to prevent the truck and it's trailer at any time from jackknifing, Tesla says.