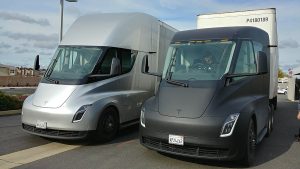 Footage has appeared on Youtube of two Tesla Semi Trucks leaving Gigafactory1 in Nevada and destined for the Fremont factory where Tesla builds it's Model 3 passenger car. The trucks take part in a large testing programme to find out if the technology is sufficiently reliable.
Tesla stresses that this test is not about finding out about the range of the truck. The trip to Fremont is simply too short for that. However, it seems very much about finding out about the capability to haul heavy trailers and still keep up with the promised range. In this short film, you can see how quickly a Tesla semi accelerates to 56 mph after a right hand turn with a loaded trailer.
Tesla will be testing trucks during the entire year. It intends to start producing and selling trucks to customers from next year onwards.