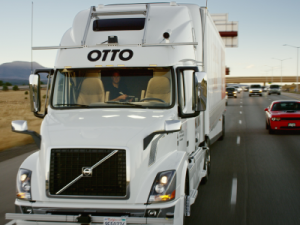 A self driving Volvo truck with Otto technologie has driven 120 miles with commercial cargo on public roads in the USA.
On Thursday, the self-driving truck left Fort Collins, Colorado, at 1 a.m. and drove itself 120 miles on I-25 to Colorado Springs. The driver, who has to be there to help the truck get on and off the interstate exit ramps, moved to the backseat alongside a crowd of transportation officials to watch the historic ride.
Two thousand cases of Budweiser beer filled the trailer. "We're just thrilled – we do think this is the future of transportation," James Sembrot, the senior director of logistics strategy at Anheuser-Busch InBev, told Business Insider.
The beverage company, which outsources all of its beer delivery, paid Otto to deliver the cases of Budweiser to test the technology's commercial uses. The German automaker Daimler has also tested self-driving trucks across Europe and in limited cases in Nevada, but it hasn't accepted commercial trucking loads yet. Otto's beer run is just the beginning of what the company plans to accomplish.