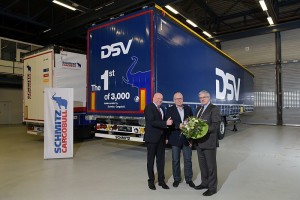 Logistics giant DSV from Denmark has ordered 3.000 new trailers from German manufacturer Schmitz Cargobull. Today, DSV took delivery of the first rail-transportable curtainsider semi-trailer from a total order of 3,000 units ordered.
What makes it so special is that the contract is just 10 days old, yet Schmitz Cargobull still managed to provide a finished, sign-written DSV semi-trailer on a "just in time" basis. Schmitz are very proud of their new production method which in extreme cases, produces a new trailer within just 18 hours. The complete order will be steadily processed over the next two years, and includes delivery of both Universal and Mega trailers.
All trailers are delivered on Schmitz' own Rotos trailer axles, combined with disc brakes. In addition, there is the convenient Varios height adjustment system for the body, with its simple and self-explanatory plug-in mechanism. Adjusting the height of the body ensures adherence to local country-specific regulations concerning overall trailer height in trans-European goods transport.
Yet another important deciding factor in securing the order was the modular assembly system, including the equipment for intermodal traffic: All of the trailers to be supplied can be loaded onto trains or equipped for ferry transport. The components belonging to the modular assembly system are fitted using threaded bolts, meaning that all of the parts can be safely and rapidly replaced in the event of damage or repairs being carried out. It is even possible to retrofit additional components at a later date, thus increasing their flexibility in terms of use.