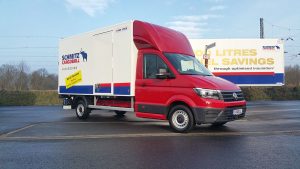 Trailerproducer Schmitz Cargobull presents the VKO Dry Van Box. This is a box that is produces as a kit that is ready for assembly in two hours by to mechanics. The panels are produces in the Schmitz Cargobull factory in Berlin. The first model is for the new VW Crafter and MAN TGE vans. Other models will follow soon. Schmitz is counting on a year production of about 7000 units. After the dry van box Schmitz will come with a version for refridgirated goods.
"The van body segment will grow strongly as a result of online retailing," affirms Schmitz confidently. The movement into this vehicle class (3.5 – 6 tonnes) thus expands Schmitz Cargobull's product range into the light commercial vehicle sector. The van box body kit comes in two standard sizes and can therefore be optimally adapted to the specifications of the vehicle manufacturers. The new production line at the Berlin site is currently designed in the medium term for an annual production of 7,500 van box body kits.
This new product line completes the company's portfolio with high-quality and sustainable transport units to the 'last mile' delivery.
Good economic situation bolsters the transport industry
All signs continue to point to further growth in the traditional trailer business with curtainsiders and box body trailers as well. "Curtainsider production is undergoing particularly strong growth," says Schmitz. Trailer output is forecast to rise by more than 22 percent from 24,516 to 30,000 units in the current business year. According to present estimations, the order intake will even reach 33,000 curtainsiders by 31 March 2017. In the case of reefer semi-trailers, an increase in production of around 14 percent to some 19,000 units (previous year: 16,522) is forecast.
Due to the high production figures, employee numbers have also increased. Around 5,600 persons, including temporary workers, are currently employed by Schmitz Cargobull – some 150 more than in the previous year. In the current business year, sales will increase from €1.779 billion (in the previous year) to more than €2 billion euros.