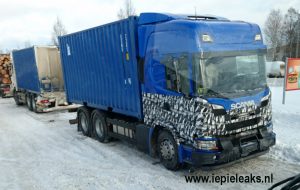 Now here is a photo of a nextgen Scania G-Highline cab that was sent in by one of our many spies out there. What we see is the low, P- cab, but take a good look at the mirrors and the front bumper. That looks like parts of the next Scania Construction trucks are also tested on the road now.
We do espect to see more of both the P and G- models later this year, and maybe even the new construction line.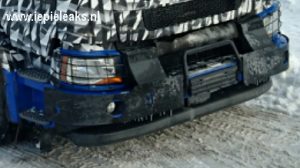 Now what is puzzeling us is the position of the door handle. That is placed higher than the one on the R-series as you can see on the photo. Comparing that R- photo to the dark blue test truck also makes comparing the grilles more clear. The truck that we call the new G- series has two horizontal strips in the upper grille, the R- series has three.