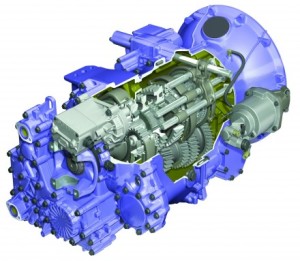 Scania is known for having a retarder availbale which is mounted in conjunction with Scania's own gearbox. The Swedes have renewed their retarder layout, in order to make life easier for the tuck driver and also to save fuel.
The new retarder version (R4100D) automatically disengages and enters a freewheeling mode when not active. This reduces drag losses because both vaned wheels that provide braking power when rotating in oil are disengaged. Actual fuel savings will vary depending on road conditions, but an average of a half percent reduction is taken as the rule of thumb.
The driver doesn't have to do anything, according to Scania. When braking power is needed, the free­wheeling stops and the engagement takes place smoothly and immediately using a type of synchronisation that is similar to that in Scania gearboxes. Besides not requiring any energy, the freewheeling retarder also provides higher braking power, 4,100 Nm instead of 3,500 Nm, as well as an increased braking effect at lower engine rpm with the help of higher gear ratios.
The new retarder will be availbale as from the first quarter of next year.