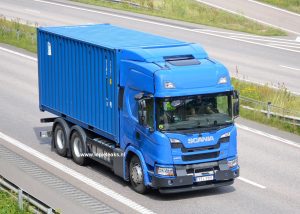 On this photo, made by Truckphoto Helsingborg, we see a Scania badged as a G500.
The same truck was caught last year by a Dutch truckdriver and at that time it had camouflage prints over the cab. The only thing that is hidden is now the front bumper that looks like a construction bumper. It does have a central tow point, and that is important in construction. Another specific construction detail we find at the mirrors. These seem to be a more simple and cheaper to replace types than what we saw on the S- and R- types so far. Still this truck has the 'G' badge, without the XT logo, but that may be a way to trick us. Fact is that the real construction vehicles are named 'XT'. Check this posting on Iepieleaks to read about that new Scania range of construction vehicles.
The official launch is said to be in september and this looks like Scania has done their homework and the truck is ready. The cab sits low on the chassis, but slightly higher than the new P- models that we saw.