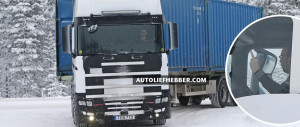 Iepieleaks  has received more Scania wintertest pictures through www.autoliefhebber.com.
The pictures show a 4×2 tractor unit wit what we would now call a Topline cab. Interesting is the LED bar above the windscreen. All Scania trucks that were spotted have one and this could be the next step in roof lights. They do give a lot of light, are compact and don't use a lot of electricity. Another benefit is that they don't interupt the streamline.
The cab we see is wider at the front than the currrent models. The roof line does still look like the Topline roof but there is lot of camouflage going on. The mirror housings look gigantic but that is probably just as fake as what Volvo showed earlyer.
One thing that seems to change is that the lower part of the cab with the fenders now is mounted to the cab.
And about the symbol the driver makes to the photographer, is that a traditional Swedish way to be friendly?
Source: www,autoliefhebber.com