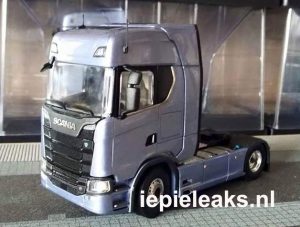 And there we have the complete Scania design, leaked by a scale model.
This photo was sent in last night by several Iepieleaks fans and it is already on the net. The scale model has the same lines in the grille as the truck we showed yesterday and therefor this must me the real thing. The launch is in about two weeks time and this is news is going to make some people at Scania very sad.
Exactly the same thing happend with the Volvo design, three years ago. The production of scale models is more and more a risk for the automotive industrie. Not only in the truck business but also in the passenger car world designs sometimes leak through scale model production.
About the truck, this looks like the biggest cab with a flat floor. One interesting thing is that the roof lights look like the DAF Sky-lights.