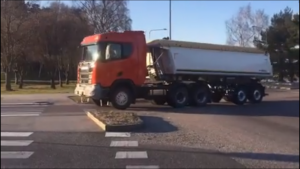 Scania is due to launch their new construction range of trucks. On these video-screenshots you see a part of the new lineup for the G- models.
On the photo we see the heavy steel front bumper and the flexible lower step. Still the cab sits quite low for a construction vehicle, and that means the entry should be good. We espect to see more of the new Scania construction trucks after the summer, but we keep you posted as soon as there is more news!
A few months ago we already showed a Scania G- type test vehicle. Click here for that posting!