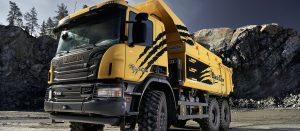 Svempa's legendary truck designs are known throughout the world. Now, 77-year old Sven-Erik "Svempa" Bergendahl has taken on a new challenge: designing the eye-catching Scania Mining Black Claw tipper truck. In addition to the striking exterior design, his personal touch is visible in the cab interior with customised upholstery of seats and door panels.
Obviously, a truck deserving Svempa's creative attention must be something out of the ordinary. And this truck certainly is. Built for Siberian off-road conditions, the 6×6 Scania P 400 tipper truck has been fitted with super large 16.00R20 tyres. Broader tyres enable the truck to manoeuvre in Siberian permafrost conditions during the short window of opportunity for road construction when it briefly thaws. Rather than completely melting, the earth becomes a gooey blend of mud and sand, hindering traction. This truck thereby matches the performance of articulated dump trucks.
Built for the harshest climate, the 14-cubic metre tipper body, which can be extended by an additional two cubic metres, has been equipped with exhaust gas heating and hydraulic vibration to prevent the load from freezing and sticking to the surface. Necessary chassis adjustments have been carried out to make room for the large tyres and the truck features an impressively high ground clearance.
The truck has a loading capacity of 18,3 tonnes and weighs 16,7 tonnes. Source: Scania.com