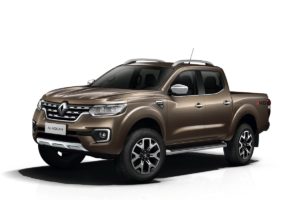 Renault are introducing their own version of a pick-up truck, clealy based on the Nisan Navarra. The new Renault shares the chassis, engines, bodywork and advanced rear wheel suspension.
This means that the Renault also gets a 2.3 dCi engine, with a choice of a 160 and a 190 hp version. The Alaskan has independent rear wheel suspension and has a loading capacity of one tonne. The similarties with the Nissan are clear. The new Renault is to be built in Spain, Mexico and Argentina. Renault clearly aims to conquer the same market as rthe Nissan, which makes us curioous t the price differences with the Navarra.
There's another Navarra sibling on the way by the way. Next year, Mercedes-Benz will unveil a similar pick-up, with the same technology. But with a higher price, we expect.