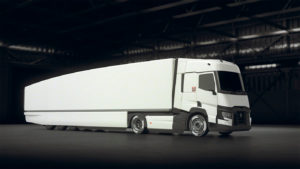 Renault Trucks has shown a first illustration of how the new, longer cab should look like. The longer front is for better aerodynamics, and also for more safety for other road users. The Renault Optifuel Lab 3 is developed as a part of the FALCON project. Optifuel Lab 3 combines technologies aimed at optimizing aerodynamics, reducing rolling resistance and using various modern driver assistance systems.
The trailer shas a variable geometry and the combination works with new Michelin low rolling resistance tires. Navigation and traffic data from Benomad, meteorological data from Wezzoo and data from the Michelin tires are used for a large number of innovations. The optimized predictive speed and smart cooling system controllers are examples of that.
The new, longer cab is espected to comply with the new European rules for trucks that are forseen in the near future.