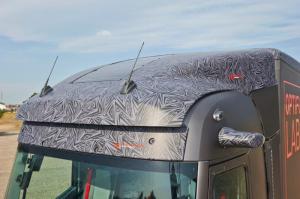 Renault Trucks shows with the Optifuel Lab2 a new study to lower fuel consumption and Co2 in the near future. The new driving laboratry is based on the new Renault Truck T-series and it has a lot of interesting details.
The truck has twenty new technologies on board that have positive effects on rolling resistance, energy management, aerodynamics and driver suport systems. The truck uses solar energy, regenerates the heat from the exhaust system and has special spoiler shapes on truck and trailer.
Another interesting detail is that the mirrors are replaced by camera's!
Renault will show a scale model of this truck on the IAA in Hannover.