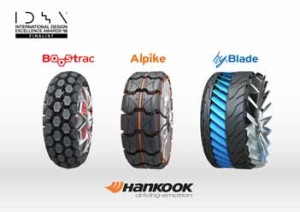 Hankook Tyre has won the Red Dot and Idea awards for three new tyre concepts.
The concept tyres were developed together with the German University of Pforzheim. Students design, engineering and business worked together with Hankook for these innovative concepts.
The Boostrac is a tyre with a variable running surface structure that can extend to improve traction. This is ment for steep hills and in rough- desertlike surcomstances. The Alpike is designed with unique extendable posibilities for making the tyre higher. This can be helpfull in snow or when more clearance is needed. The Hyblade is a tyre with special technology to cope with a lot of water.
All three concepts got the IDEA (International Design Excellence Award) award and the prestigious Red Dot award.