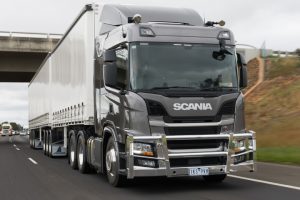 Scania is preparing the introduction of it's NextGen trucks for the Australian market. As we all know, due to weather circumstances, Australia is the most demanding continent on the planet when it comes to operating trucks.
The Swedes are testing a B-Double rig featuring a non EGR V8 engine. This should not be a problem, as Scania's are made in the country that only recently raised it's GVW form 64 to 74 tonnes. The pictures show a nice bullbar which is in Australia as much a necessity as it is in Sweden. We also see that a decent sunvisor was left out in the specification, which is a bit of a shame in a sunny continent like Australia.
The definitive introduction is planned for the beginning of 2018.