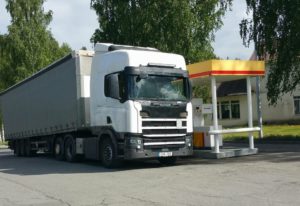 We have seen a lot of Scania fieldtest trucks comming by, and here is another one. This photo was taken by Jarno Mikki Mäkelä, thanks for that Jarno!
What we see is a much higher cab than the Scania we know now and we think this is the optional flat floor version. For the rest of the design we can not see anything because the complete cab is wrapped in fake panels. We will have to sit and wait untill the final presentation and though we don't know for shure our bets are on the IAA show in Hannover, later this year.
Untill then, keep sending your photo's to iep@transwebgroup.com! And thanks again Mikki!