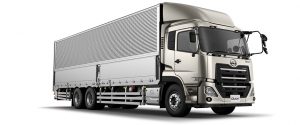 UD Trucks Corp, part of the Volvo Group announced plans to launch a new version of the Quon heavy-duty truck. This means that UD will change the product after 13 succesfull years!
As a member of the Volvo Truck Group the GH11 engine is probably the Volvo-Renault 11 liter diesel. The power output is 420 Hp with 1950 Nm of torque. The gearbox is named Escot V, which is an automatic, two pedal 12 gearbox. The picture shows that this is the UD version of the I-Shift transmission. The GH11 engine complies with the Japanese 2016 exhaust gas regulations, and all models achieve +5% over the 2015 fuel economy standards for heavy vehicles in Japan.
Other features we have seen before on European trucks of the Volvo Group are the Traffic Eye Brake Collision warning, working with radar and disc brakes. UD Trucks are sold in Asia, Australia, South America and Africa.