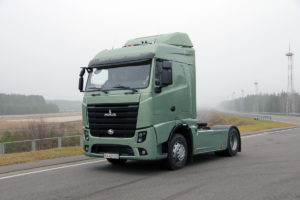 The new model of MAZ trucks from Minsk White Russia, will be going on sale soon. The White Russian firm uses many parts from Mercedes, including the MP4 Actros cab.
It's not the frist time that we show this truck, but the news is that is really going on sale now and will cost less than the original Actros. There are several reasons for this. First, let's take a closer look at the MAZ 5440M9. Underneath the Actros cab, we find the Mercedes OM 471 engine, coupled to a Powershift transmission. The axles also come from Mercedes.
MAZ has fair commercial chances with their new truck as the price seems to be attractive. Here's the big difference with 'the real Actros', the MAZ has a much more simplified dashboard with switches that we haven't seen since the nineties of the previous century. However, as European trucks are much more expensive due to import taxes, we expect this MAZ to be seen regularly on (White) Russian and European roads in the near future.