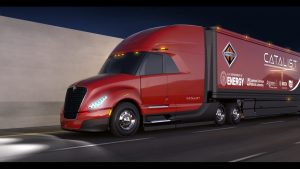 Navistarannounched their SuperTruck demonstration vehicle, CatalIST last wednesday. This truck achieved a freight efficiency improvement of 104 percent and that is more than double the 50 percent goal set by the U.S. Department of Energy (DOE) for its SuperTruck program.
Against a 2009 base line model truck, the CatalIST Supertruck achieved a fuel economy of 13 miles per gallon and demonstrated 50.3 percent Brake Thermal Efficiency (BTE) and a path towards 55 percent BTE, According to Mark Stasell, Navistar vice president of product development the CatalIST demonstrates the potential for reduction in the trucking industry's consumption of energy.
Predictive Cruise Control, improved aerodynamics and weight saving technologie are the key words that lead to these improvements.