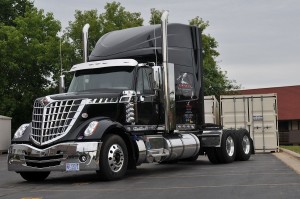 American truck manufacturer Navistar introduces the possibility to reprogramme engine management systems 'through the air' via WiFi. This is an industry first. Navistar developed the possibility, which opens the door to remote diagnosis, not just for engines but also for other truck parts, together with some partners.
Navistar have named their system OTA, Over The Air programming. The company is convinced their new system will 'revolutionize' engine management and diagnosis.
Navistars own engine line-up is involved at first. It will be possible to 'look' into the engine management system while loading or unloading at a customer, via the WiFi of for instance this particular customer. Navistar has ended final tests, but it will still take us into 2017 before market introduction is a reality.