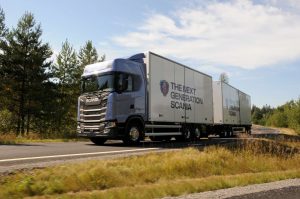 Now with the new R- and S- types launched we are all waiting for the new G- P and Construction trucks. Scania people say that it could take up to 1,5 year before the complete new range is launched. Untill then the current 'old' models will still be produced and sold. First the production in Södertalje is shifting to the new product range.
We already drove the trucks during the press event and we are impressed. Some details: The new high- S cab is only available with the automated transmission. The tag-axles are now steered with a electric-hydraulic system so the big steel boom over the frame has dissapeared. Also new is that the sound engineers let some more engine noise in the cab so the driver can enjoy the V8 sound better.
An interesting new cab is the S-type with the standard roof. Scania now offers the standard and the Highline roofs, so no more Topline. On the S- cab there are four steps to the flat floor in the cab. With the standard roof on this high- cab there is still more than 190 cm of standing space in this tough looking truck. Check the video to see more!