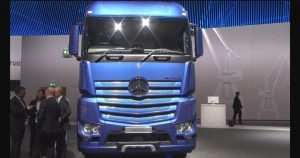 Mercedes-Benz has a fine cooperation with Foton in China, but it has announced that it intends to sell it's own Actros truck as well. Also, Mercedes is looking to replace the Actros they sell in Brazil, with a version of the present Actros we all  know in Europe.
The Mercedes shown in this picture was at the IAA in Hanover. When you look closely, you see the Arocs headlights, a different front bumper, quite a big step for the driver and a higher position of the licence plate holder. We certainly can't confirm that this model will be in use in either China or Brazil, but we do know that this one comes close.
Trucks in the countries mentioned need more free space as the roads are different from those in Europe. China and Brazil enjoy many perfect motorways, but the countries are too big to guarantee perfect roads anywhere. By next year, we will know for sure what Mercedes will come up with in China and in Brazil. We show the picture of the latest Foton Auman, which is now 'hot' in China.