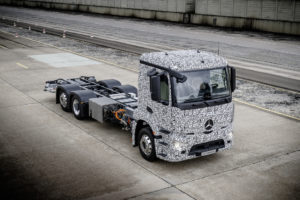 Mercedes-Benz is launching the Urban eTruck at the IAA 2016 in Hannover. Today the new truck was launched for the press but the full design will be showed at the IAA.
The Urban eTruck is a 26 ton truck for heavy city distribution. The battery's are good for about 200 km and that should do the job in the city. The battery's are build in the frame and the electric engines are mounted close to the wheels. This new heavy electric truck comes just above the six ton Fuso Canter E-Cell.
The weight penalty is only 700 kilo because there are no engine, gearbox, fuel and AdBlue tanks on the truck.