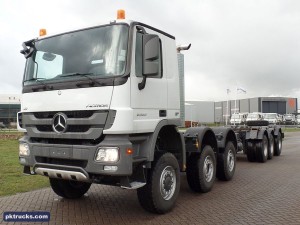 Usually, at Iepieleaks, we are no 'advertisers' for trucks which are for sale, anywhere. But here's the exception. In Holland, there are three brand new six axle Actros chassis for sale, with a length of fifteen metres/45 feet.
These exceptional trucks are often used as a basis for mobile concrete pumps. The trucks are entirely new and are powered by the Mercedes V8 engine in Euro 4 guise delivering 510 hp.  The trucks have a manual gearbox and three axles are driven and four are steered, the final axle is steered by an electro hydraulical system.
The trucks are for sale at PK Trucks in Moerdijk and cost 175.000 euro each.