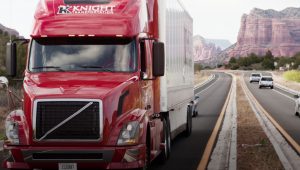 In the US, two of the largest haulage companies in the country, will become one. Both companies intend to swap shares in order to become one giant company with a turnover of 5 billion dollar a year.
The new company will be called KNX. This stands for Knight Swift Transportation Holdings Inc. It has trucks on the road every day in all of the US, Canada and Mexico. The fleet consists of no less than 23.000 tractors and a gigantic 77.000 trailers. The company employs 28.000 people.  Knight and Swift are both based in Phoenix.
Knights and Swift see Schneider as their main competitor, a company which is significantly smaller.