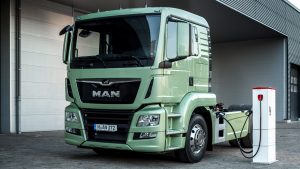 MAN starts a test programme with it's recently introduced e-truck which was unveiled at the IAA in Hanover late last year. MAN has selected a number of customers who need to unload goods in Vienna to participate on this trial. As from the year 2021, MAN intends to produce this electric truck in larger numbers.
The model which will go on ntest, has a range of one hundred kilometres. In case of a three axle rigid, with a GVW of 26 tonnes, MAN looks to double this range on a short term. This is important, as we recently showed a Mercedes truck on Iepieleaks, which already should have a range of 200 km's, also with a 26 tonne, 3-axle chassis.
Charging the batteries shouldn't take longer than an hour, MAN says. The project in Vienna comes with a price of around ten million euro's. A third of this amount will be paid for by the Austrian government.