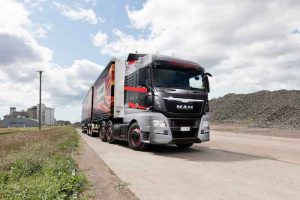 After more than 18 months of local research, testing and development, MAN Trucks has released its all-new TGX D38 truck to the Australian market at launch events in Brisbane. The TGX flagship aims to establish the European brand as a major player in the 15-litre, heavy-duty truck market.
Before an industry elite, including Penske Corporation Chairman Mr Roger Penske, the striking matte black D38 was unveiled as the newest TGX flagship, and the first high horsepower MAN model that meets the demands of long distance transport in B-double applications.
The D38 engine has been optimised for Australian conditions and features a tailored powertrain designed for the most demanding transport tasks, with a six-cylinder inline engine with 15.2 litre displacement. The new engine further enhances the MAN range and introduces a new horsepower class of 560 hp at 2,000 ft-lb, producing maximum torque from as low as 930 rpm, which ensures the focus is efficiency.
With total cost-of-ownership savings delivered through a range of patented MAN technologies, the D38 has an automated manual 12-speed Traxion Transmission shifting system, with three new fuel saving modes and GPS-controlled cruise control from MAN EfficientCruise, which uses saved topographical map data to detect route gradients and optimise fuel consumption (route dependent).