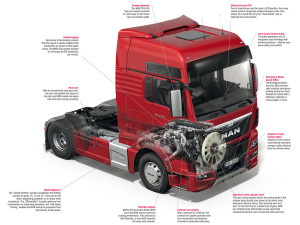 At the IAA Commercial Vehicles 2014, MAN will be introducing the new top model TGX D38. This flagship has a tailored powertrain with numerous new efficiency functions and is designed for demanding transport tasks.
The core element is the newly developed D38 six-cylinder inline engine with a displacement of 15.2 litres. This power unit stands for superb power delivery and extends the TGX model range by the HP classes 520, 560 and 640 HP. The top engine with 540 Hp will be exclusive for special transport purposes.
MAN designed the TGX D38 as an ideal truck for heavy-duty long-haul transport and offers suitable basic vehicles. The maximum torques of 2 500 Nm (520 HP), 2 700 Nm (560 HP) and 3 000 Nm (640 HP*) are available in all gears. For customers who often transport high gross combination weights, the TGX D38 offers a fascinating combination of excellent transport capacity and cost efficiency. For areas that place maximum topological demands on the vehicle, the TGX D38 has sustained power reserves and good traction power on gradients. High transport speeds can thus also be achieved on difficult routes. The enormous output of the continuous braking systems also makes travel on downward gradients at a higher average speed possible.
For all models there is the new TipMatic 2 gearbox with new functions like speed shifting in the top three gears. Also this gearbox has the Efficient Roll function, like EcoRoll and the GPS Cruise Control.