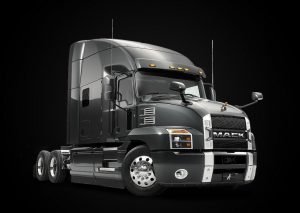 Mack Trucks has unveiled a new long distance tractor for their US homemarket called Anthem. According to Mack the new Anthem is 'designed for drivers'. The new Anthem can be ordered with various engine and transmission options. Available are 11 and 13 litre engines, the most powerful of them, a thirteen litre, being equiped with turbocompound.
Mack uses the turbocompound system to increase torque and to make the engine turn at lower speed while maintaining a very American top speed of 63 mph. Actually, according to Mack, the engine can rev as low as 900 rpm and still deliver maximum power and efficiency. Mack also offers three manual transmissions, like the well known Fuller and also an Allison automatic. Mack is keen to point out that the Anthem will be like 11 percent more fuel efficient as the previous models, which we think is quite a lot.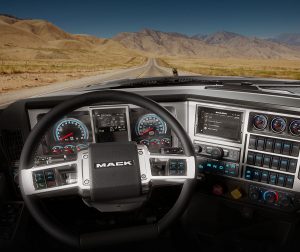 The dasboard looks American modern and the sporty steering wheel, featuring all sorts of functions looks cool. The automatic  transmission is operated via knobs on the dashboard, same as we see in Europe with Iveco Stralis.
It is obvious that Mack is offering stunning looks, very spacious cabs and modern drivelines with the new Anthem. According to us, this is the Mack-answer to another cool looking American truck, the Interantional Lone Star.