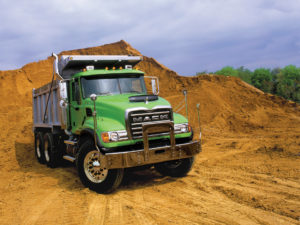 The Mack Granite trucks now come standard with the new mDRIVE HD 13-Speed gearbox. Now that is the Mack name for the I-Shift Crawler gearbox as we know it in Europe. Her is the official release of Mack:
GREENSBORO, NC (May 9, 2016) – In response to increasing customer demand, Mack Trucks today announced its Mack® mDRIVE™ HD 13-speed automated manual transmission (AMT) will be standard on Mack Granite® models. Featuring a low ratio creeper gear, the mDRIVE HD 13-speed helps boost customer productivity thanks to improved performance and reduced weight.
Mack is the first truck manufacturer in North America to offer low reduction creeper gear ratios in a proprietary automated manual transmission. Since Mack announced the availability of the mDRIVE HD 13-speed in March, customer response has been overwhelmingly positive, encouraging Mack to make the 13-speed AMT standard on the Granite model starting with production of the 2017 MP®8 engine. The mDRIVEHD 13-speed is also available on Mack Pinnacle™ and Titan by Mack models.
"Making the mDRIVE HD 13-speed standard on the Granite is a natural evolution of our industry leadership," said Dennis Slagle, president of Mack Trucks. "Since its introduction, the mDRIVE has become incredibly popular – starting first with highway and more recently with many heavy-duty vocational applications. The introduction of the 13- and 14-speed gears expands the range and performance in vocational applications so much so that it is only natural for it to become our standard offering in the Granite model."
Available in direct or overdrive configurations, the new Mack mDRIVE HD 13-speed offers a low reduction creeper gear ratio designed for easier startability on steep grades or when the truck is carrying a heavy load. This improved startability also allows customers to select a faster rear axle ratio. The faster ratio decreases engine rpm at highway speeds, saving fuel as the truck travels between job sites.
The mDRIVE HD 13-speed, like all Mack mDRIVE AMTs, is monitored by Mack GuardDog® Connect and serviceable at more than 400 Mack dealers. GuardDog Connect is Mack's proactive diagnostic and repair planning system. It monitors fault codes that could potentially shut down a truck or lead to an unplanned visit to the dealer. GuardDog Connect enables quick diagnosis of issues, proactive scheduling for repairs and confirmation that needed parts are in stock and ready to install, all while the truck is still on the job.
The Mack mDRIVE HD 13-speed shares its architecture with the industry-leading standard mDRIVE HD, including reinforced internal components and the same gear ratios for the 12 forward speeds.
Mack also announced in March the availability of the mDRIVE HD 14-speed. The addition of the two transmissions with creeper gears enables Mack to meet the needs of a wider range of customer applications with the power and performance that only a fully integrated powertrain can offer. Mack mDRIVEAMTs are available exclusively with Mack MP® engines. Thanks to the new low reduction creeper gears, the mDRIVE HD 13- and 14-speed transmissions not only improve performance in off-road, heavy haul and construction applications, but also for on-highway applications. As a result, Mack now offers both new mDRIVE HD variants in Mack Pinnacle™ models.
The addition of the low reduction creeper and multispeed reverse gears is made possible by a short extension added to the front of the transmission case. Despite the additional capabilities, the new mDRIVEHD models are less than five inches longer and only 90 pounds heavier than the standard mDRIVE HD, maintaining a weight advantage of nearly 150 pounds compared with automatic transmissions. The Mack mDRIVE HD 14-speed, available only in an overdrive configuration, adds a second ultra-low-speed reduction gear designed for curb pouring applications or low-speed, heavy-haul maneuvering. Both transmissions offer up to four reverse gear ratios.
In addition to the two new models, all Mack mDRIVE transmissions, including the standard mDRIVE andmDRIVE HD, received numerous updates for improved performance and durability. The transmissions are controlled by a redesigned gearbox control unit, while a new clutch with a larger torsional damper helps reduce driveline vibration. Component wear monitors were also added to enable predictive maintenance.
"Response to the mDRIVE and mDRIVE HD has been tremendous," said Roy Horton, director of product strategy. "Currently, mDRIVE penetration for Pinnacle axle back and axle forward models is at approximately 80 percent and 60 percent, respectively, while mDRIVE HD penetration for Granite models is about 20 percent and growing. The penetration level of mDRIVE in all our models has continued to increase since its introduction."
Available in axle forward or axle back configurations, the Mack Granite model delivers the reliability, durability and strength expected of a Mack. The high-performing, fuel-efficient Mack MP7 and MP8 engines range from 325 hp and 1,200 lb.-ft. of torque to up to 505 hp and 1,760 lb.-ft. of torque. Every Granite model is built on Mack's proven Cornerstone™ chassis and can be paired with a Mack Camelback suspension, a vocational industry standard, or the Mack mRIDE spring suspension, which delivers higher ground clearance and extreme articulation. The Mack mDRIVE HD 13- and 14-speed AMTs are scheduled to go into full production in October.