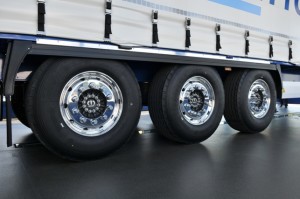 Trailer manufacturer Krone introduces it's own trailer axle at the upcoming IAA truckshow in September. First examples of this KTX axle are in production at the Gigant axle plant, which Krone took over almost a year ago. The first axle is a nine tonne example, equipped with disc brakes from Haldex and using a brake cylinder from Wabco.
Krone intends to gear itself up in the parts business and the new axle is the typical example of this new source of business. Krone intends to become much more active in parts and it intends to make money from the riding gear as well.
In the upcoming new years, a number of variants of the axle can be expected, suitable for refrigerated trailers, a heavy duty axle, followed by an axle suitable for 19,5″ wheels. Finally, Krone will also develop an axle for Huckepack trailers.
The existing Gigant Euro axle will also remain on sale. There's frankly quite some resemblance between the Krone and the Gigant axles.