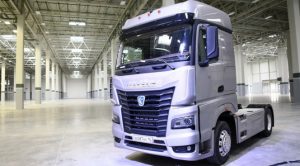 Russian truck manufacturer Kamaz will start assembling engines on a new line from March this year in a newly built plant. In the past, Kamaz relied for decades on an ancient and relatively inefficient V8 design. Now, together with German company Liebherr, the Russians developed an inline six twelve litre engine, said to become available with power ratings varying from 400 to 700 hp.
At first, this engine will meet Euro 5 standards, while in a later stage, engines complying with Euro 6 will become available.  For this project, Kamaz has teamed upo with Liebherr, which is a long standing partner of the Russians, dating back 30 years ago, when the Germans already developed gearboxes with Kamaz.
Eventually, Kamaz intends to produce 12.000 engines a year, the new engine will be mounted for instance in the new Kamaz truck based on the Mercedes Actros MP4.