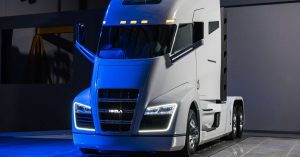 Start-up company Nikola has unveiled it's long awaited truck concept last night in the US. First thing Iepieleaks notes  is that the gasturbine has been interchanged for a hydrogen fuel cell system. Sill, the Nikola delivers 1.000 hp.
The Nikola One utilizes a fully electric drivetrain powered by high-density lithium batteries. Energy will be supplied on-the-go by a hydrogen fuel cell giving the Nikola One a range of 800 – 1,200 miles while delivering over 1,000 horsepower and 2,000 ft. lbs. of torque – nearly double that of any semi-truck on the road. Never has a production model class 8 truck achieved best-in-class fuel efficiency while also dramatically improving performance over its diesel competition – all with zero-emissions.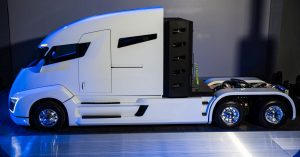 The Nikola One leasing program will include unlimited hydrogen fuel, warranty and scheduled maintenance during a 72-month term. To date, Nikola Motor Company has accepted reservations totaling nearly three billion dollars in future orders.
"Nikola will build a world-class advanced manufacturing facility which will create thousands of new jobs," said Nikola Founder and CEO Trevor Milton. Nikola is currently in discussions with several states to decide who to partner with in its effort to reduce America's dependence on fossil fuels, advance green energy and revolutionize the trucking industry. The location of the Nikola Motor manufacturing facility will be determined in the first half of 2017. At the launch event, Milton will also unveil Nikola's plan for a network of Nikola hydrogen fueling stations across the US and Canada. Nikola plans to begin construction of its hydrogen fueling stations in January 2018.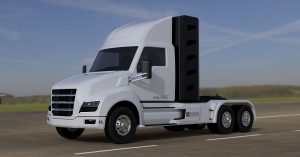 At the event, Nikola Motor Company announced Ryder System, Inc. as its exclusive nationwide distribution and maintenance provider. Ryder has a network of over 800 service locations in North America today.
Question is if the Nikola concept will hit European shores as well at some moment.