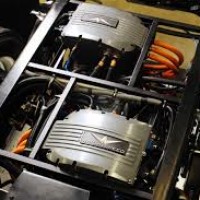 Isuzu N-Series trucks are not particularly cool. They are very useful, but all they do is their job and that's it. Typical examples of N-Series Isuzu's in practice are waste trucks.
In the US, former Tesla-engineer Ian Wright is developing a plug-in-hybrid driveline based on a gasturbine combined with a small electric motor. The entire driveline can be mounted afterwards, in order to for instance clean up existing trucks, like the Isuzu N-Series.
The driveline has much more power than comparable trucks with a diesel engine. The Wrightspeed solution is also three times more fuel economic. Also, there's no emission of particles or any other harmful greenhouse gases. The soundlevel is very low, Wrightspeed assures.
Would it be possible to see Wrightspeed trucks in Europe? Probably, as the company from San Jose negotiates with all the big names in logistics to try out this new, powerful concept, which is being shown in this film with an Isuzu N-Series truck doing dougnuts on the Bonneville salt flats.