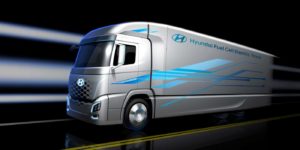 Hyundai is presenting a heavy fuel cell truck. The Official presentation is planned for 2019 but the press release shows an artist impression of the fuel cell truck just before the IAA2018 in Hannover.
Hyundai has a lot of experience with fuel cell vehicles. The last 20 years the Korean company took the lead with this new technology and was the first to start series production of passenger cars with fuel cell technology.
A bit strange is that Hyundai is not at the IAA in Hannover this year.