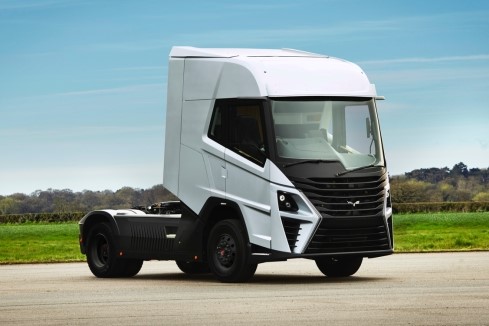 At the Commercial Vehicle Show in Birmingham HVS presents a Hydrogen-Electric truck with a range of 370 miles (600 kilometres).
Hydrogen Vehicle Systems (HVS) is a new UK-based hydrogen vehicle emerging OEM and innovator in the heavy duty commercial vehicle segment
Today, HVS unveils its 40-tonne HGV technology demonstrator, featuring a unique powertrain and radical cab design, making it the first indigenous UK Hydrogen HGV, designed and built from the ground up
Class-leading 370 mile (600 kilometre) range – can be refuelled in 20 minutes
A reinvention of commercial vehicle design, aimed at optimising range, payload, weight distribution, direct vision, aerodynamics and ergonomically practical cab design, produces a sector-leading vehicle
HVS' strategic investor, EG Group, enables route-to-market through fleet operator connections and infrastructure development via their international refuelling site network
HGVs are the second largest contributors to UK transport emissions. They make up a disproportionate amount of road transport emissions (18%) whilst only contributing 5% of vehicle mileage. HGV numbers are increasing on the roads, so this emissions figure is likely to increase.
Fuelled by close-coupled green hydrogen (hydrogen produced directly by renewable energy sources such as hydro, wind or solar)
Founded in 2017, in Glasgow, HVS focuses on the ground-up design and development of zero-emission hydrogen-powered commercial vehicles. The company comprises industry specialists, with vast experience in the automotive, energy, hydrogen technology, power electronics, sustainability and environmental management fields.
With government targets to curtail sales of all non-zero emission 3.5 -26t HGVs set to come into play by 2035 or earlier and all sales of new non-zero emission HGVs by 2040, HVS and its world-leading technology have the potential to play a crucial role in allowing emissions reduction targets to be achieved.  
The company also has a defined route to market. In addition to funding from the Advanced Propulsion Centre, Innovate UK, Scottish Enterprise and Energy Technology Partnership, HVS' strategic investment partner is the service station and grocery corporation, EG Group, offering hydrogen refuelling infrastructure, fleet customer base and the potential for global scalability.